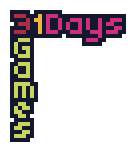 31 Days, 31 Games
A downloadable game collection for Windows
Against my better judgement, I spent all of December 2021 making a game every day.
Some of them are surprisingly decent, others could be better, but one thing's for certain: they are all videogames.
I've packaged them all in a little launcher and sent them out into the world. I hope you'll enjoy at least some of them!
I also recorded the development of each game every day (so you can watch me wither away in real time), but I haven't finished editing that together quite yet. Watch this space!
FEATURING GAMES SUCH AS:
GNOP: Singleplayer PONG, you control both paddles and have to collect coins to score points
Supermarket Game where you Crash into People: A game set during Black Friday
Megapunch Turborun: An infinite runner where you punch windows and avoid punching bombs (this is a strong lesson applicable to real life (the not-punching-explosives part) (not the breaking-windows-with-your-fists part))
Atramentum: A """"horror"""" game where you move in a grid, but the monster doesn't
Vertical Golfing: About time, am I right?
And more! 26 more, in fact! There are 31 games in total! Hahaaaaaaaaaaaaaaa why did i do this
Download
Click download now to get access to the following files: